Description:
Nero Burning Rom is a simple software that allows you to write different types of data, be they images, movies, music etc., to multiple types of discs. With increasing number of types of discs available in the market, demand has also grown to produce them. Take for example the production of Blu-Ray Movies from their files downloaded through bittorent clients. Now, if you have a Blu-Ray disc player (at home), you would definitely love to watch your downloaded movie using that specific player.

For that purpose, you will have to create a Blu-Ray disc, which by normal methods, needs professional resources. Nero Burning Rom provides ease for you, so that you never have to worry about a single thing when creating professional CD/DVD/Blu-Ray (and even more) types of productions. Also, using some good CD Burners, some people prefer to take their backups on CDs/DVDs. This tool is very useful for them, as this allows them to make what they want with a guarantee. The distinctive features of this program are given below:
Distinctive Features:
With Nero Burning ROM 11, you dont need to categorize each type of file when making discs. For example, if you have a 7GB data, and you have two 4GB DVDs, then you wont need to separate your data into two parts (in this case 4GB and 3GB). Nero Disc span will do this automatically for you. Also, you have no restriction on the type of file to be burnt. Now you can also mix any types, be they Music, Videos, or even of any unknown format.
Expect nothing less than the best with the experts who started it all. Exclusive Nero SecurDisc 3.0 burning helps ensure disc readability reliability regardless of scratches, age and deterioration so your content remains secure for a long time. SecurDisc Surface Scan offers additional reliability to burned optical discs.
Move your music from CDs to your PC with one-click ripping. Easily create playlists or CD mixes of your favorite tunes right on your computer for instant playback.
Go beyond just burning with more SecurDisc features such as Surface Scan, which offers additional reliability to burned optical discs. Surface scanning is included with every burn to ensure that your discs are perfect before burning.
With this burning rom, you need just to drag and drop to create disc images in many formats. You can Use ImageRecorder to create disc image files by simply dragging and dropping to burn disc image formats such as iso, nrg, cue and img. The virtual disc recorder expertly replicates data for easy backup to CDs, DVDs and Blu-ray Discs.
Make perfect copies with just a few clicks. Whether you're copying music or videos, it's easy to make flawless copies of your favorite music CDs and movies for playback or sharing. Copy music to CDs and even HD movies to Blu-ray Discs quickly and easily.
So there you have it...! Now I know that you all need to get this software for free, as it costs about $50, so I also have a solution for that. Just hit the download button below to download the torrent file, as the file is large, and the torrent belongs to its owner...! So I say that you ENJOY!!!
The torrent details are given below:
Uploader: ChattChitto RG
Note: The seeders and leechers may increase and/or decrease with time, so they are not mentioned.
Installation Instructions:
1). Hit the download button below, and download the .zip file from MediaFire
2). Extract the files from the .zip, and run the program in it. It will show a window like this: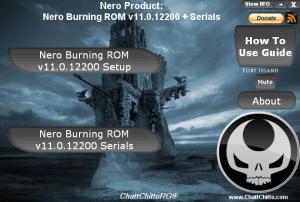 3). Click the "Nero Burning ROM v11.0.12200 Setup" Button. An installation will start running. Once the installation has finished, carry on with step 4.
4). After installation, click on the "Nero Burning ROM v11.0.12200 Serials". You will see a screen showing you different serials and usernames. Use any of them, and register your copy. If they are required during the installation, then when needed, press the Serials button.
I hope that helps. Believe me, this is one of the great softwares. For all my CD/DVD work, I use this goodie...
See you in my next post. To download the .zip file, click download button below. The software has been self-tested, and is fully compatible with all versions of windows, and of course, all MyWindowsZone downloads are absolutely virus free...!